Family Chiropractic Center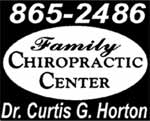 Family Chiropractic Center is a locally owned clinic opened by Dr. Curtis G. Horton in March of 1978. Dr. Horton specializes in upper cervical care that corrects the whole spinal column's balance, which affects the overall health and well being of the individual. The office is located at 2027 E. Cherry in Springfield, MO. (417) 865-2486. Office Hours: Mon., Tues., Thurs., Fri., 10:30-1:00, 2:00-6:00, Sat., 9:00-12:00. Closed Wed.
PLEASE CLICK ON THE FIRST PHOTO BELOW TO START YOUR VIRTUAL TOUR!!
ONCE OPENED - CLICK ON THE RIGHT SIDE OF THE PHOTO TO ADVANCE THE TOUR!
Photo Gallery
Click on a photo below to enlarge and begin slideshow.
Large slideshows may take a minute to load.