Absolute Wellness llc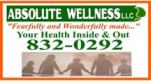 Store hours Mon.- Fri. 10-6, Sat. 10-2. We have independently joined together in one location to encourage and educate as we listen and review your health issues. Have a Naturopath help guide you on your health journey. Keep up with us on our facebook for specials, schedules and classes. Click on Shiela for more information about Thermography with BRAS provides safe breast health screening: no pain, no radiation, consultation and preventive techniques included. Learn about supplements, breast exercises, EMFs and other ideas that affect your breast health. Thermography also available for half body and full body concerns. Click on Mary Jo for more information about our Blood Analysis - Discover the secrets of your health with a blood analysis. Consultation included. See vitamin/mineral deficiency, parasites and much more. Learn how to eat right for your blood type. Click on Nina to find more information about our Massage therapy - Massage Release your cares in an environment created to help the body relax. Experience a Professional Therapeutic Massage dedicated to Replenish Body-Soul-Spirit. Be Revived when you leave - Massages start at $45
Photo Gallery
Click on a photo below to enlarge and begin slideshow.
Large slideshows may take a minute to load.
Hidden Treasure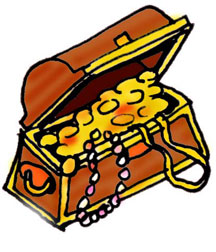 Try 2011 Best of Supplements Award Winner ~ Natural Vitality CALM ~ this Anti Stress Drink balances your Calcium intake and helps to restore magnesium levels. Millions suffer daily from symptoms that can result from a lack of magnesium. Due to the fact that magnesium is so vital to so many bodily processes, deficiency can contribute to a wide variety of conditions such as: Stress, Fatigue & Low Energy, Inability to Sleep, Muscle tension, Spasms & Cramps, Anxiousness & Nervousness, Irritability, Headaches, Weakness, PMS and Hormone Imbalances, weakening Bones, Abnormal Heart Rhythm, Calcification of Organs. On SALE now 20% off just mention that you saw this special.